Ramblings Early May 2022
What lovely weather Sunday the 10th April was at Waltham Chase, some 50 plus cars came and went during the morning again some we had never seen before, including the Grey Fire Service Van which I had never seen before and only lives 200 yards from me, plus a very nice Reliant Scimitar
Swanmore
Just a reminder that we also meet in the morning on the fourth Saturday of each month and during the summer months at Swanmore Barnaby's Café.
From the SHVPS
If you have the space in the May Ramblings, please could you include the Peter Green gathering on the 18th June (as you did in the April edition) and also the Solent Sky Museum on the 4th June with me as the contact and the text from the April SHVPS mag, which I have repeated below. Apparently, they have space at the Sky museum for up to 60 cars! I am planning on only 15 to 20 as a more achievable number.
The wonderful Solent Sky Museum www.solentsky.org/ at the Ocean Village in Southampton are looking for 20 classic vehicles for Saturday 4th June to help them celebrate the Queen's Jubilee. The vehicles are to have been built before or were in production at the time of the Queen's Coronation, 2nd June 1953. This is a breakfast meeting, so we can arrive from 8:30 (or later) with bacon sandwiches and hot drinks available. We are invited to display our vehicles in a reserved area in front of the museum for a few hours or remain there so we can explore the Ocean Village and surroundings. Entry fee to the museum is £10. Also on site is the Hampshire Police and Fire Heritage Collection - so we have 2 museums in one!
Thank you
John
This is followed by a vehicle electrician, if ever you need one
My name is Peter Holland and I've been on your mailing list for some time but haven't yet been able to get to any of your meet ups yet.
I just thought I'd let you know that I've just set up my own business as an auto electrician with a passion for classic and vintage cars (I've just had to sell my much loved Jaguar XKR to help finance my new business venture). Although my business is based near Emsworth, I live in Bishops Waltham and am happy to offer a mobile service to help out local classic and vintage car enthusiast's with their electrical woes.
I've got 35 years experience as an auto electrician and have owned and worked on many interesting vintage and classic cars over the years.
My Website is www.brightsparkautomotive.co.uk
Peter Holland
I had a couple of replies from the last Ramblings, this one, from John Hankin is in response to the speed trap
Pete
Regarding the photo of the radar trap in Pound Hill Alresford – yes you are correct the guy in glasses between the two policemen is Stuart Green and the chap on the far left is my father Alec Hankin who was Chairman of the Bench so doled out the fines to miscreants including me!! The picture would have been in 1958/69 when he was Mayor of Winchester. I to have a copy of the photo taken by The Hampshire Chronicle but it is undated on the reverse.
And so is this one
Hi Pete,
You ask the question if anyone remembers the date of the radar trap. I recall as a young Bobby in the West Sussex Police Force, using a similar radar trap down in Bognor Regis back in 1966/7. Ours was contained in a wooden box on fold up legs to protect it from the weather, and had to be tested by a Police traffic unit (car or motorbike) to prove its accuracy every time it was used. If it malfunctioned it had to be returned to the radio repair unit at Headquarters.
Hope this helps.
Jess Jay
To put our events into perspective, here goes
8th May. Next Sunday meet at Waltham Chase is this Sunday at 8.30 onwards at Waltham Chase Village Hall.
16th May First weekday trip is to the Weald and Downland museum
Weald and Downland Museum 16th
May
The first one for 2022 is on Monday the 16th May will be a visit to the Weald and Downland Museum, where the Repair Shop is filmed. The idea is to arrive say about 10.30 to 11am and stay all day if you wish, visiting the Museum, or the usual natter about cars. Unfortunately there will be no access to the Repair shop other than viewing from a safe distance.
We can go as a group booking at a very discounted rate. Normal entry is £15.50 but to us it will be £12.30, if you are over 60 then it should be 13.50 but for us £10.60. If you are disabled then it's just £4.50. Full time students are free. Please book in advance, if you cannot make it I will refund your entrance fee if you let me know by Sunday the 15th.
We will have to park in the main car park but really most of us, if we could arrive at a similar time could be together anyway. Of course, you may come in your modern, or bring a friend if you wish, but we would rather see you there in the Classic.
I will need you to book in advance and pay me please to obtain the discount. So if you could e-mail, text, write or phone me and send me the entry money I will book you in. If you need to cancel, up to the day before as I will need to know by 9am on the 15th (the day Before) so I don't have to pay for you if you are not there!
I will need to know
Your Name
Phone Number
E- Mail address
Car number
How Many adults Under 60 and how many over 60, any children or Disabled persons
You can Bacs me the money 52-41-07 01123319 Use your surname and the word Weald please, or send a cheque, or give it to me at the next meet
Pete Yeoman 07710307880
Bishops Waltham Motorcade and Family Fun Day
If you have a Classic vehicle or anything interesting and would like to join in the Motorcade and or just display it on the ground please;
e-mail me with
Your Name
Mobile Contact number
E-mail
Type of vehicle
Indicate, Motorcade or just Show
Anything else relevant
pete@bishopswalthamrotary.org.uk
Tel 07710307880
.

Waltham Chase Rambling's April 2022 Hi all lots happening in the coming months, which to be fair after all the problems, should be right! First of all, I will list events coming up that affect us in this area and it does not cover those events held by local clubs, S.H.V.P.S, The Allsorts, and the British Made Car Club, to name just a few. Yeomansyearbook, the year is going well with listings on the Yearbook still coming in, many of you are coming up with events we at the yearbook don't already know about. We have nearly 1100 so far for the South of England. Don't forget it if you are away on Holiday, there could be an event near you, event if you have a modern. www.yeomansyearbook.org.uk
23rd April at Barnaby's, Swanmore, the first one of this year. 8th May at Waltham Chase Village Hall 16th May our 1stLunchtime event for 2022, At the Weald and Downland Museum, please book in for this one, see further down 28th May at Barnaby's Saturday at Swanmore 3rd June a Friday Classic Cars at Shedfield, Jubilee Picnic to celebrate the Queens Platinum Celebrations 11thJune Bishops Waltham Festival and Motorcade, please book in for this, see further down and dress patriotically. 12thJune Waltham Chase Sunday Breakfast brunch, this is on, we don't normally meet on the Sunday after the show but this year we will 25th June, Barnaby's Saturday at Swanmore 10th July Waltham Chase Sunday Breakfast 19th July Lunch Time meet, watch next month, it will be at a Hostelry as in the past 23rd July Barnaby's Saturday at Swanmore
VILLAGE HALL DONATIONS I thought I would keep you up to-date you about the donations you give at Waltham Chase, these go directly to the village hall fund and are usually around the £50 mark, thank you all, keep it up please
Waltham Chase meet, this is to remind you that we will be meeting on Sunday the 12th June, the day after the Bishops Waltham Show and Motorcade. I know we never have before but I am introducing it because not every Sunday morning classics go to Bishops Waltham, anyway you might like to do both!
John Wise sent this in, always useful to know Stamps as we know them will no longer be usable when posting letters from next year, Royal Mail has confirmed. From January 31 2023, current stamps will no longer be accepted when posting mail, as the company intends to rollout new barcoded replacements. As a result, any stamp that has the Queen's head on and says '1st' or '2nd' class, or any other price – or they're Christmas-themed – will not be accepted. Anyone who does try to use the current stamps after January 31, 2023, will have to pay a surcharge. The only exceptions to the new rules are 'special' commemorative stamps, which not being phased out. Royal Mail has urged people to use their stamps before then, or swap them under a new scheme. "Non-barcoded stamps can be exchanged for the new barcoded version through Royal Mail's 'Swap Out' scheme," a spokesperson said.
Well done John, something to look out for in 2023 Weald and Downland Museum 16th May The first lunch time meet for 2022 is on Monday the 16th May and is a visit to the Weald and Downland Museum, where the Repair Shop is filmed. The idea is to arrive say about 10.30 to 11am and stay all day if you wish, visiting the Museum, or the usual natter about cars. Unfortunately, there will be no access to the Repair shop, other than viewing from a safe distance. We can go as a group booking at a very discounted rate. Normal entry is £15.50 but to us it will be £12.30, if you are over 60 then it should be 13.50 but for us £10.60. If you are disabled then it's just £4.50. Full time students are free We will have to park in the main car park but really most of us, if we could arrive at a similar time could be together anyway. Of course, you may come in your modern, or bring a friend if you wish, but we would rather see you there in the Classic. I will need you to book in advance and pay me please to obtain the discount. So, if you could e-mail, text, write or phone me and send me the entry money I will book you in. If you need to cancel, right up to the day before, I will need to know by 9am on the 15th (the day Before) so I don't have to pay for you if you are not there! I will need to know Your Name Phone Number E- Mail address Car number How Many adults Under 60 and how many over 60, any children or Disabled persons Can you Bacs me the cost 52-41-07 01123319 or send a cheque, or give it to me at the next meet The Address is The Laurels, Winters Road, Shirrell Heath, SO32 2JT Pete Yeoman 07710307880 Bishops Waltham Carnival and Family fun day, music, dance and cars June the 11th
Bishops Waltham SHOW 11th June 2022
All owners of Classic Vintage and Veteran Cars, Bikes, military (in fact anything interesting), are invited to display their pride and joy
no age restriction just classic Join in the Fun with a Motorcade through the village. It starts this year from Hillson's Drive, near Botley Railway Station, SO30 2GE then drives to the town and into the Showground, be at Hillson's Drive by 11.45 Or just display it at the Showground in Hamble Springs SO32 1SF (you
must
arrive, before 11.30). There will be award for the Presidents favourite Vehicle and runner up. Please let us know if you intend to attend or would like more information on the event. Pete 07710307880
p
eter.yeoman@bishopswalthamrotary.org.uk.
There is no charge to enter if you bring a classic !! but please give
a donation when asked by a Rotarian on the day
More information https://www.bishopswalthamrotary.org.uk/index/news.html
Nice little piece from John Hankin, he passed this to me many years ago and have used it once in the past
.
How about this
For all of you folks who are harassed on the road from the people for do it for a living A local police station received this question from a resident through the feedback section of a local Police website: "I would like to know how it is possible for police officers to continually harass people and get away with it?" In response, a Sergeant posted this reply: First of all, let me tell you this... it's not easy. In the rural area we average one cop for every 505 people. Only about 60 per cent of those cops are on general duty where we do most of our 'harassing'. The rest are in non-harassing units that do not allow them contact with the day to day innocents. At any given moment, only one-fifth of the 60 per cent of general duties are on duty and available for harassing people while the rest are off duty. So, roughly, one cop is responsible for harassing about 6000 residents. When you toss in the commercial business and tourist locations that attract people from other areas, sometimes you have a situation where a single cop is responsible for harassing 15,000 or more people a day. Now, your average eight-hour shift runs 28,800 seconds long. This gives a cop two-thirds of a second to harass a person, and then only another third of a second to drink a coffee AND then find a new person to harass. This is not an easy task. To be honest, most cops are not up to the challenge day in and day out. It is just too tiring. What we do is utilise some tools to help us narrow down those people we can realistically harass. PHONE: People will call us up and point out things that cause us to focus on a person for special harassment. "My neighbour is beating his wife" is a code phrase used often. This means we'll come out and give somebody some special harassment. Another popular one is, "There's a guy breaking into a house." The harassment team is then put into action. CARS: We have special cops assigned to harass people who drive. They like to harass the drivers of fast cars, cars with no insurance or drivers with no licences and the like. It's lots of fun when you pick them out of traffic for nothing more obvious than jumping a red light. Sometimes you get to really heap the harassment on when you find they have drugs in the car, they are drunk, or have an outstanding warrant on file. LAWS: When we don't have phone or cars, and have nothing better to do, there are actually books that give us ideas for reasons to harass folks. They are called "statutes". These include the Crimes Act, Summary Offences Act, Land Transport Act and a whole bunch of others... They spell out all sorts of things for which you can really mess with people. After you read the law, you can just drive around for a while until you find someone violating one of these listed offences and harass them. Just last week I saw a guy trying to steal a car. Well, the book says that's not allowed. That meant I had permission to harass this guy. It is a really cool system that we have set up, and it works pretty well. We seem to have a never-ending supply of folks to harass. And we get away with it. Why? Because, for the good citizens who pay the tab, we try to keep the streets safe for them, and they pay us to "harass" some people. Next time you are in the area, give me the old "single finger wave". That's another one of those codes. It means, "You can harass me." It's one of our favourites. Thank you, Dave Strong. And so to…
Car Show invitation Peter Green has been in business since 1956 (even longer than the SHVPS) and has built a reputation for high end home furnishings. Through two long standing SHVPS members, I have been asked by the store manager to organise a classic car display of between 15 and 20 vehicles outside Peter Green's Furniture store in Chandlers Ford. This display is being planned for Saturday 18th June but it would coincide with the Portchester Gala, itself a popular event for classic cars. If you were not planning to attend the Portchester Gala, would you like to take part in a display of classic vehicles outside Peter Green's store? We are asked to be onsite from 1000 until 1400 (or, ideally, 1500). Jenny and I plan to be there. The visit will provide the following:
A chance to meet and talk with owners of the other classic cars
Show off our vehicles to those visiting the store - most will be there for the cars
Free teas, coffees etc. and a discounted lunch from their café
Take part in a walking quiz around the Omega Enterprise Park
So I know that you have received this invite, please can you reply to me, I can then inform the store manager before he finalises the date. I have had 15 replies but if you would like to attend, particularly if you have an older vehicle please do join in, but give me a ring John Stoodley 07495086137 Well that all for now Pete Yeoman
---
January 2022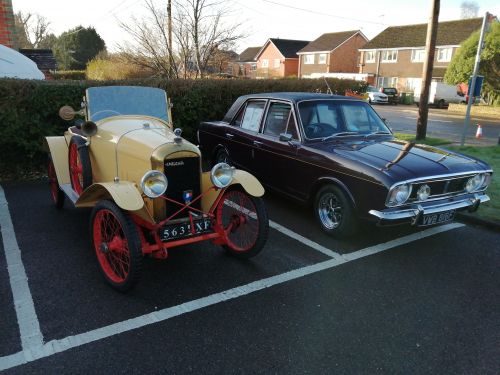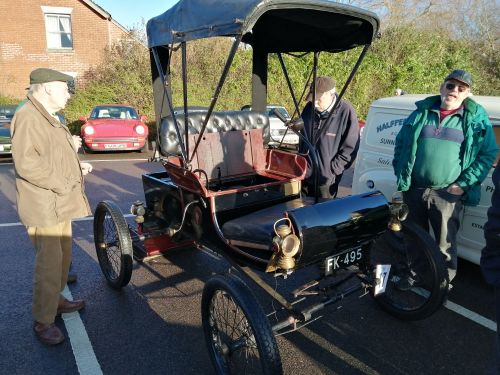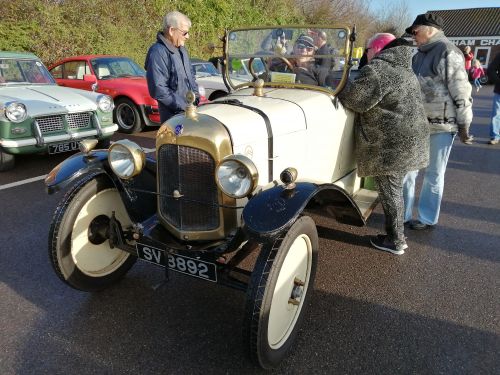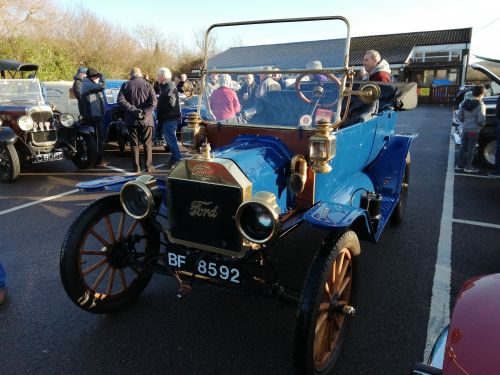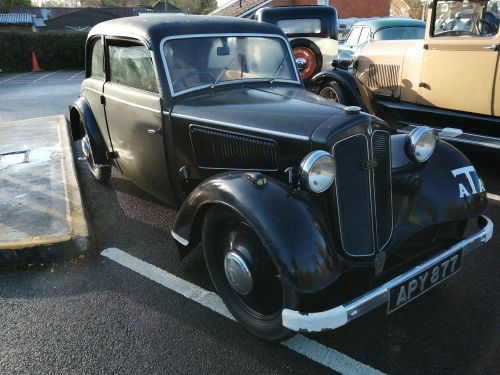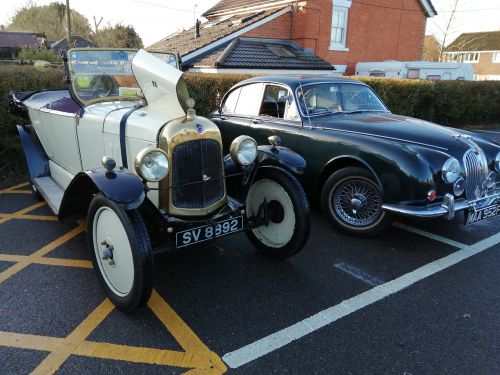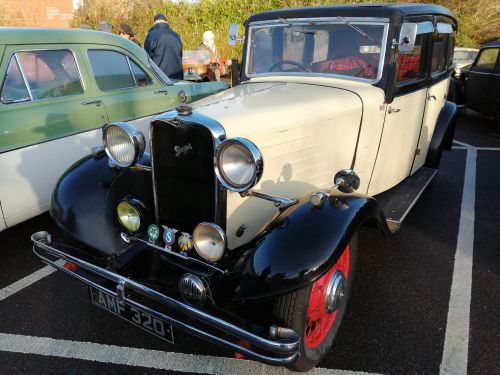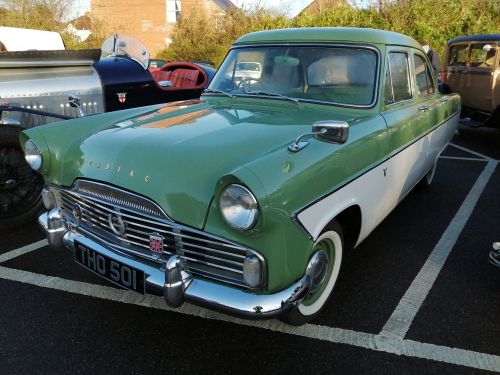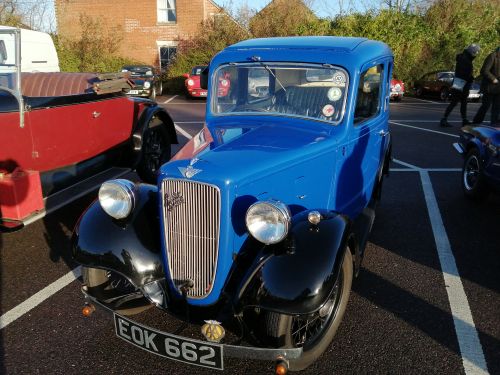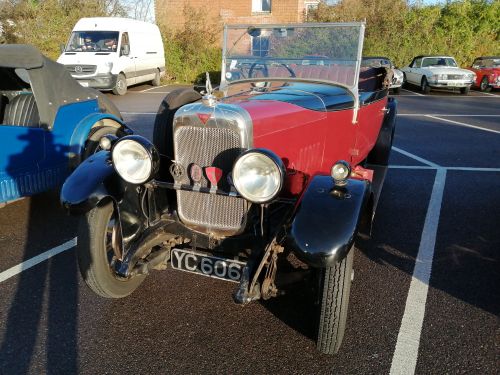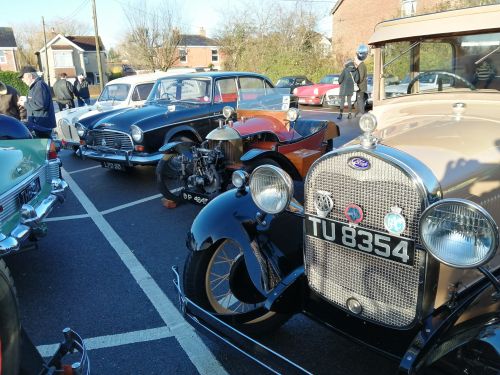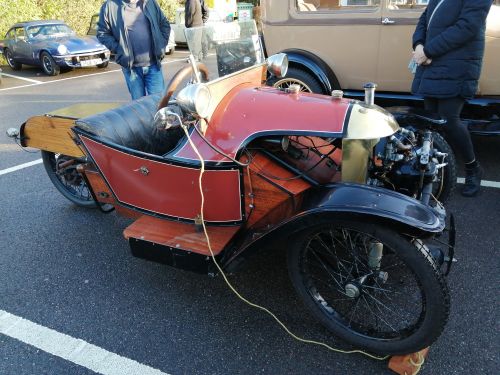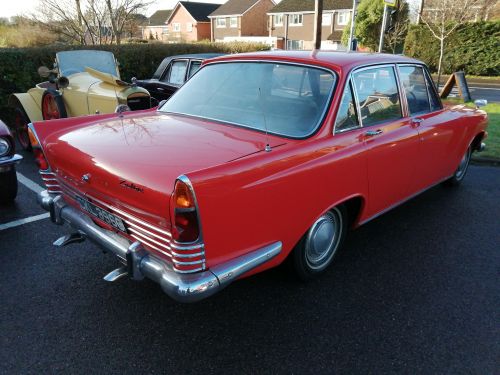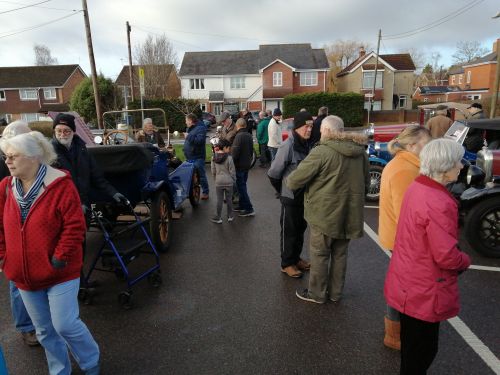 Sunday the 14th November 2021
Waltham Chase Ramblings 14thNovember 2021
At last some decent weather, a nice overcast day to welcome those arriving at Waltham Chase today the 14
th
November. It is always with anticipation that I arrive at about 8.30 in the morning, looking up at the sky and wondering, 'who will come today'? Today was our 6
th
Birthday, not that we celebrated it in any way but it was also Remembrance Sunday so at the dutiful time of 11am we performed a small non-denominational service for those who were there, unfortunately it was slightly disturbed by a car arriving halfway through the two minutes, I hope that it did not distract from what was taking part. The donations pot was £125.70, well done all of you that will be sent to the Royal British Legion. Today was exceptional, when we always have two or three we have never seen before, today saw eight vehicles that had never been to our meet. There is no doubt the fact we are not a club as such and do not have membership must have an influence on the vehicles we see. Don't get me wrong, there is nothing like a good club such as the S.H.V.P.S and Allsorts and one make clubs, who meet regularly and have good friendships. Personally I am a member of quite a few one make and local clubs, long may they continue, it's great to see them with their cars. It all takes me back to when I started 6 years ago when I decided to try and encourage our local Classic owners to come out and show what they have. As an example and I have quoted this before, I live in a village of 170 houses and there are over 60 classic vehicles here that I can count!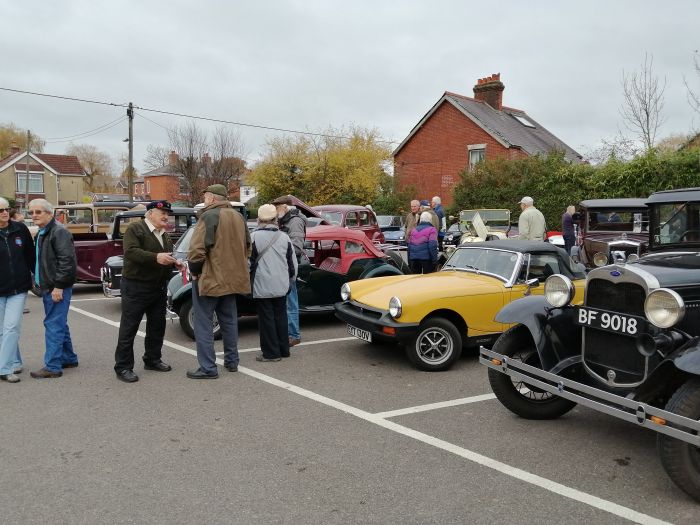 Sunday 10th October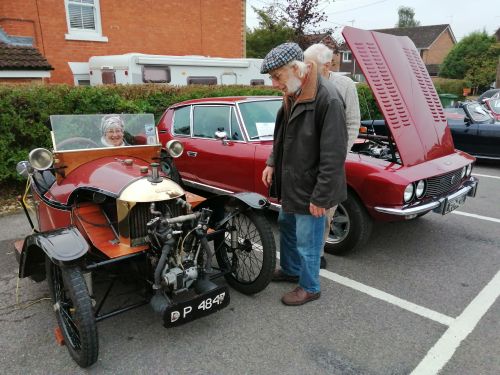 a 1920's Morgan and a Jensen
A selection of pre-war beauties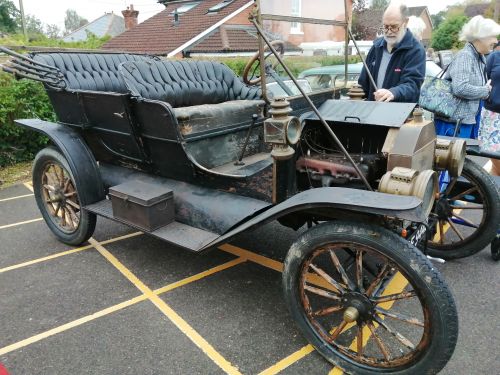 1910 Model T Ford
Sunday the 12th September 2021 we are back as before from 0900 till 12ish
Library picture Old Ramblings The below are the old ones
Number 46, would you believe it! Well its 9.30 on Sunday the 14
th
June and today we would be enjoying the usual spectacle as many of you arrive at Waltham Chase Village Hall. Ria would be busy producing Bacon butties and breakfasts AND we would have a dry Sunday, looking out of the window but not a lot of sun. Interestingly we left the TV running this morning and I have just heard the mention of a Landie on there and stopped in mid sentance above. BBC2 a programme called Landward was on and there was a guy talking about his Series 2 Land Rover and how he had restored and owned it over 30 years, Lovely patina!, Great. Right back now, Not to much to tell you today, still no news on meets and at the moment July Sunday(12
th
) is still not on but Tuesday the 28
th
at Hollycome is, but I am become concerned about that. Here is though, part 7 of Mark Harvey's Napier story.
A Napier lorry's story – Mark Harvey
Part 7; ''God bless Beaulieu Autojumble''
You know parts are few and far between when you can recall where pretty much every single part has come from, who sold it, when it was, etc. And so it is with the next piece of good fortune that came my way. I'm sure like me, many of you spend a happy day (or two) in September walking up and down the aisles of stalls at Beaulieu Autojumble. I always tend to find a few little treasures, but rarely anything Napier commercial, understandably. And it has to be said, when you have a rare vehicle, you also have to accept some days, even at Beaulieu, it just ain't gonna be your day.
Around four years ago, having spent a very enjoyable Saturday there with my friend Billy, I thought it just wasn't going to be my day. It was around 5pm, a lack of Napier bits in my bag, the marshals were beginning to ever-so-delicately bulldoze visitors to the exits, the spring in my step had gone, shoulders starting to sag, you get the picture. Billy was chatting to a stall holder, and I spotted a vendor, selling very shiny (and invariably shiny means expensive) things from within glass cases. Lots of stunning vehicle gauges, switches, and the like. With my interest in all things wheeled and military I really wasn't expecting to see anything hugely relevant to me, most parts I need have the remains of green paint on them, or in many cases, just rust. But curiosity was getting the better of me. And then I saw it. A stunning D. Napier and Sons magneto switch. I am fairly sure my eyes were out on stalks, I could actually feel my pulse quickening. As for 'poker face', that important skill needed when you don't want to pay too much for that part you've spent years looking for, well forget it. Vendor removed it from the case, and then that's when I saw the price tag. Kindly, the vendor, on learning it was to be fitted to a vehicle, lowered the price a little. But it was still a lot of cash. Billy, one of my oldest friends and certainly amongst the wisest, was consulted. His answer was simple. ''Yes, it's a ton of money, but this may well be your only opportunity to own one. Buy it, or regret it forever. There's a cash machine over there. Oh, and whatever you do don't tell Sonya how much it cost.'' Wise words. Sonya still doesn't know how much it cost – and it probably needs to stay that way.
Part eight coming soon…………
Great story I must walk round and see this interesting chassis some time, particulary as Mark lives 200 yards away! As an aside I am interested in boats as some of you will know, being involved in Lively Lady, look it up if that does not mean anything to you
www.livelylady.org
. I have been following a series on YouTube which is now up to episode 74 made by an English guy called Leo a boatbuilder. He is rebuilding an old yacht in the U.S.A called Tally Ho. Its worth watching from the start.
https://www.youtube.com/watch?v=ppFDus2E4CE
Even if you are not interested in Boats some of the camera work of late showing chisel work is spectacular, and the early episodes where he seperates the boat on his own that's 50 foot long from its keel is unbelievable. At the moment I am planning to continue these Ramblings until the 6
th
July depending what happens at the end of this month, but if you enjoy all this then please keep me updated with what you are doing together with or without pictures. The few replies I recieve from you encourage me to keep going, but I need your help. More coming on the 16
th
Regards Pete The Longest owned '
to see who's own their classic the longest'
so we can run this alongside '
your early motoring years
' and'
what I am restoring at the moment
' also 'VE day pictures' not forgetting 'My Dream car if I had endless money and storage' And what have I bought during Lockdown?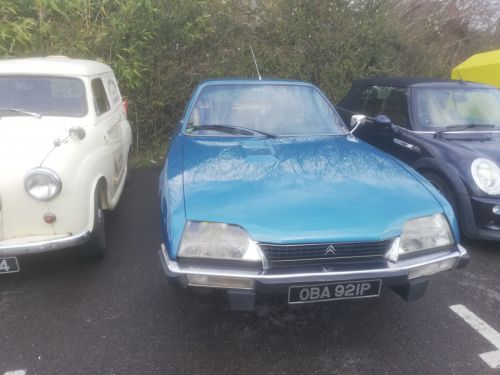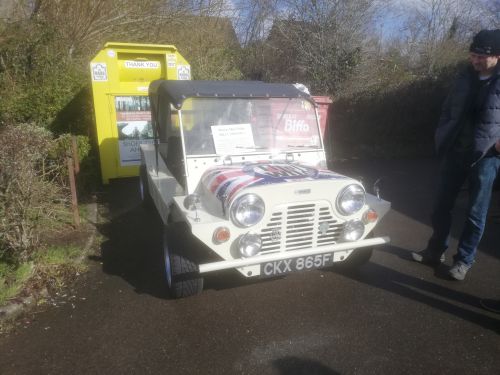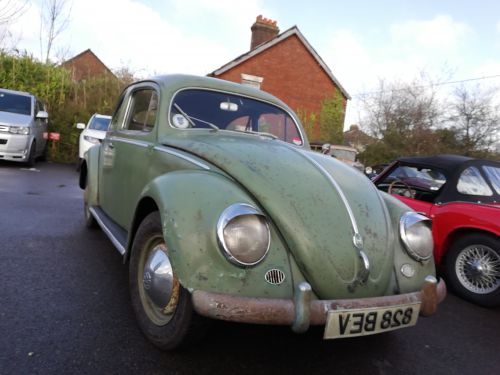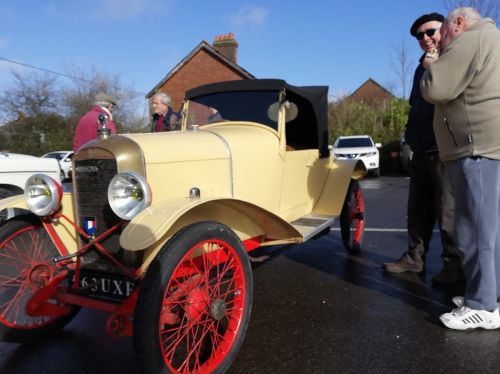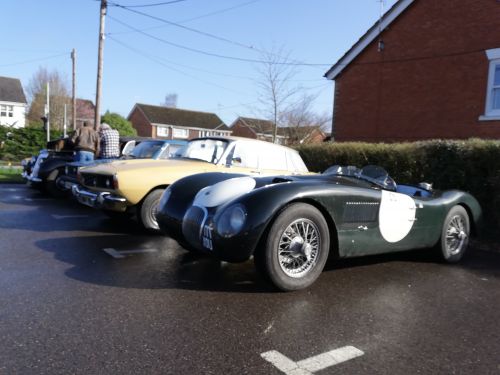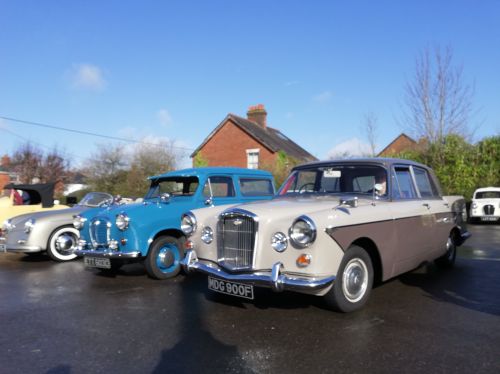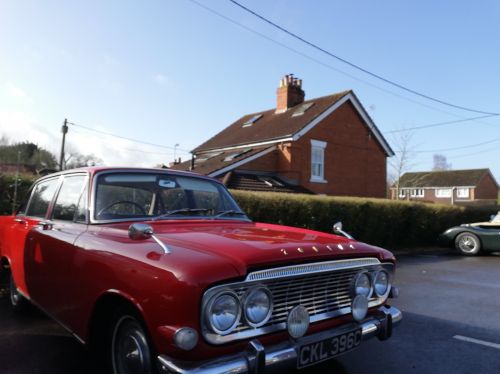 November 2019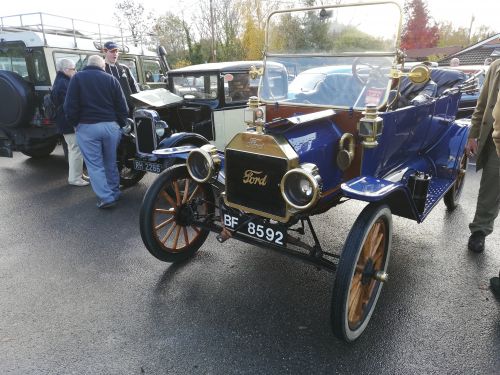 The Late Geoff Thomas's Model T brought by his son

11th August 2019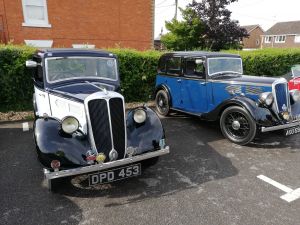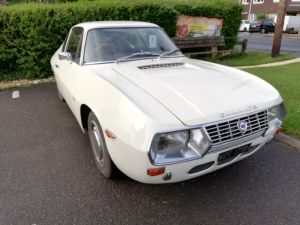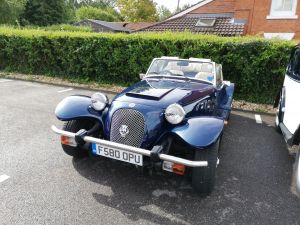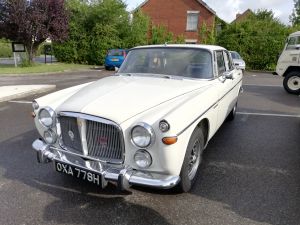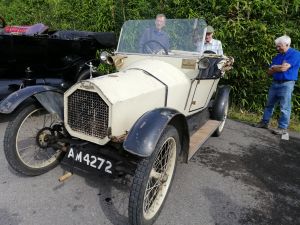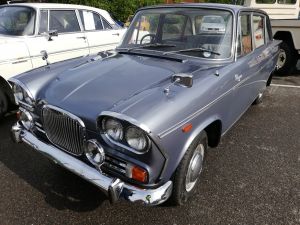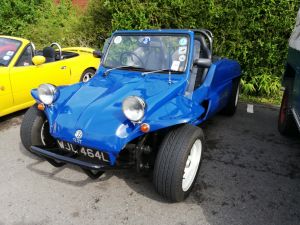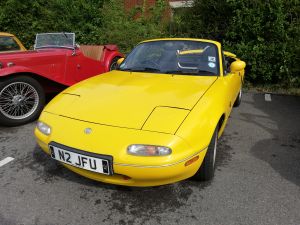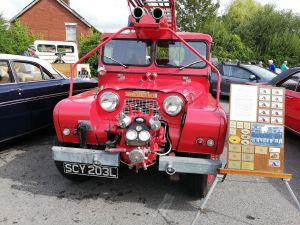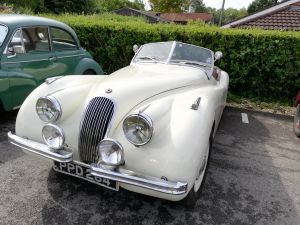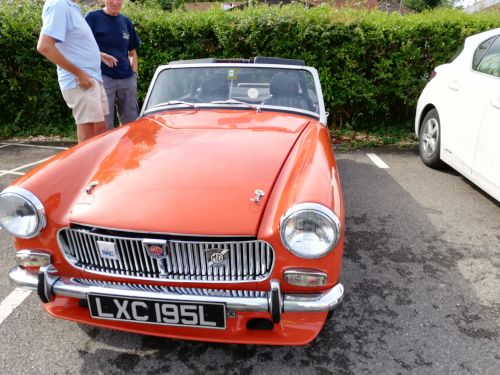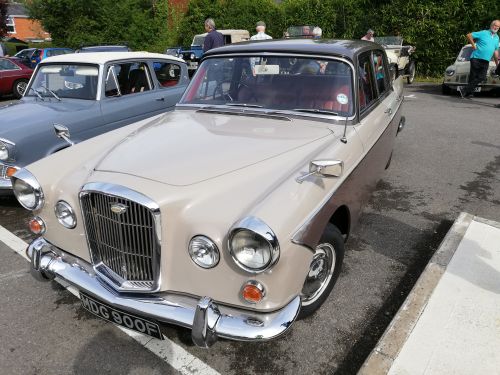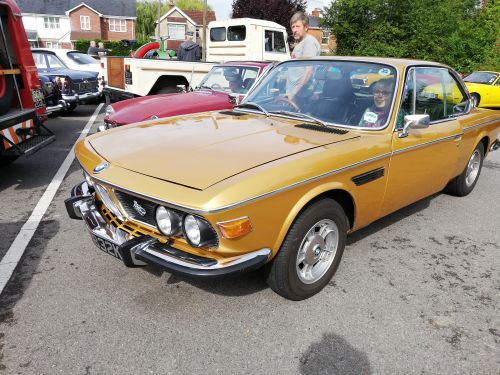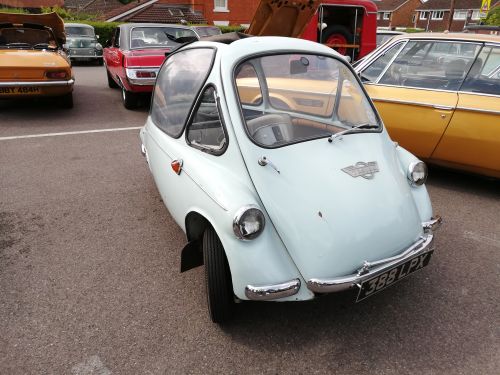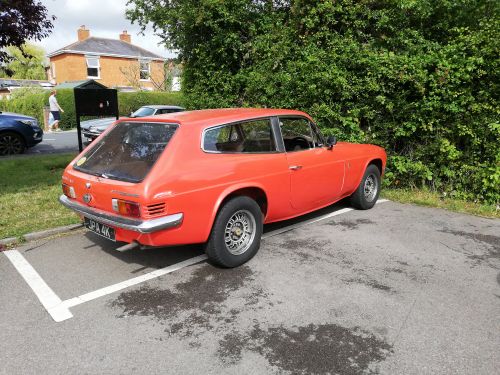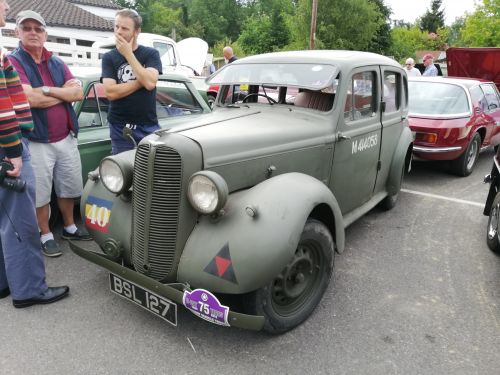 July 19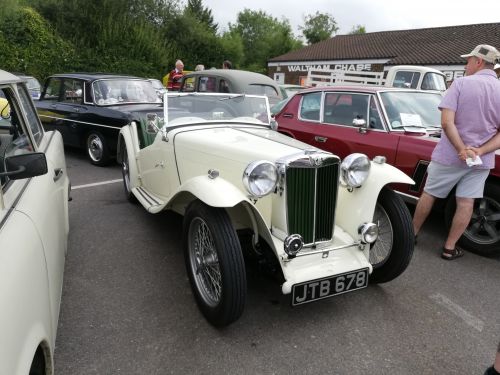 July 19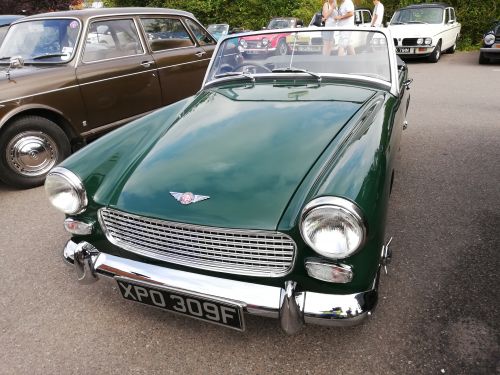 July 19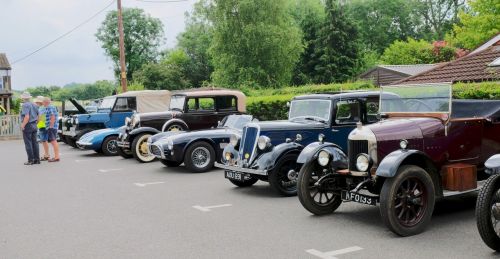 July 19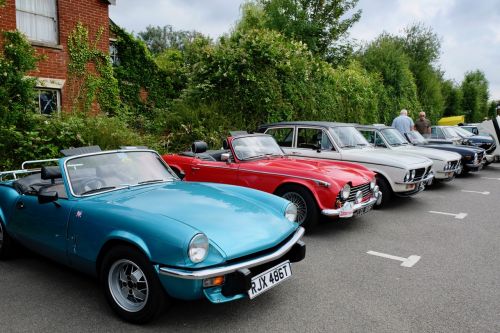 July 19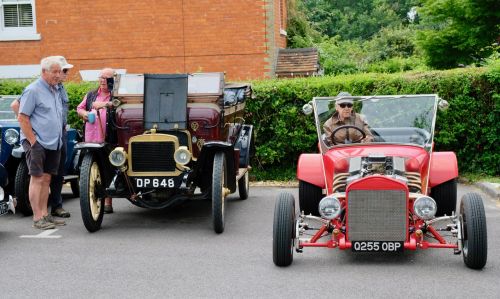 July 19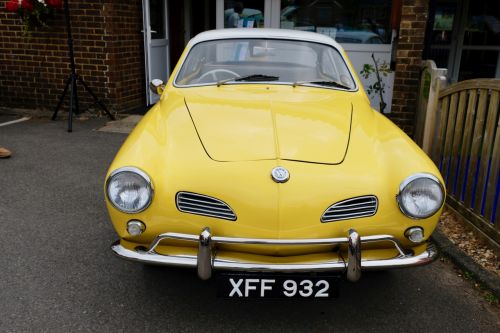 July 19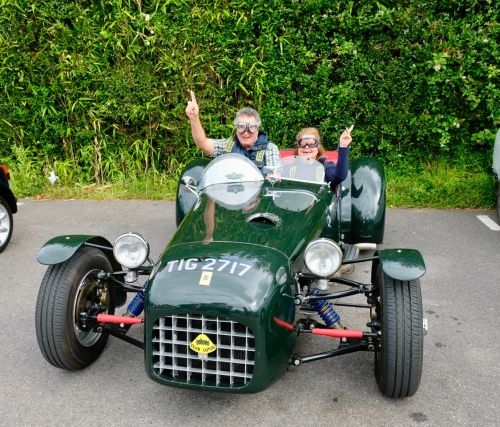 July 19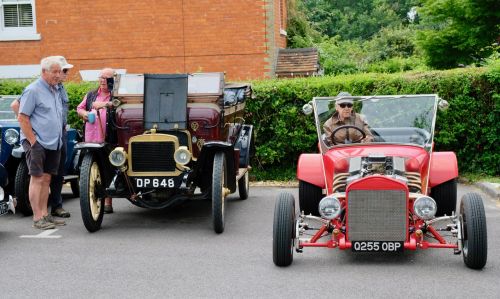 8th May at Waltham Chase Village Hall