24th October 2018
Just checked the Website useage statistics and it tells me there are on average 2000 people VISITING the hall website every month. Thats 2000 looking at your pages or about 80 every day. They must be looking for something that village halls do or offer, is it your interest they are looking for. It also tells me that each of you had at least 52 visits to your page on average each month .
More changes at the Hall, it's a lot brighter with the Back walls of the hall painted and also the windows now open and shut correctly. In addition there is a new projection screen on the stage, electrically operated via the switch alongside. PLEASE DO NOT PULL THE SCREEN DOWN BY HAND
---
Another successful Tea Party for the over 65's was held on Sunday 7th October 2018.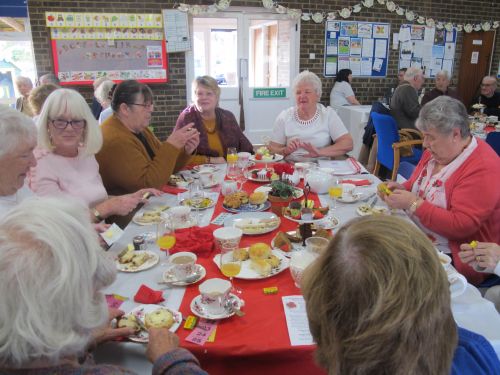 This is the 6th Annual Tea Party to have been held at Waltham Chase Village Hall thanks to a
group of ladies from Waltham Chase Village Hall Committee and Waltham Chase WI who organise the event, making the sandwiches and cakes and decorating the tables and hall. There was certainly a lot of happy chatter as everyone enjoyed this social event.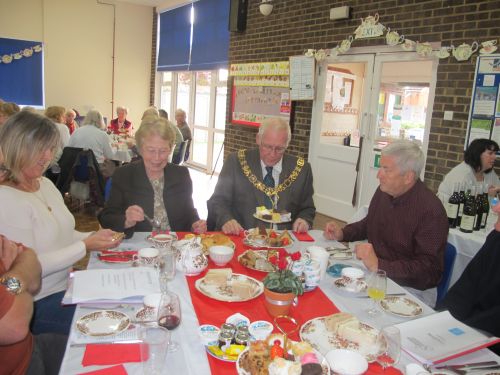 This year the guest of honour was The Mayor of Winchester, Councillor Frank Pearson and Anne Pearson. Kevin Dye and Maria Robbie the Chair and Vice Chair of the Shedfield Parish Council who made a donation of £50 to the event and the entertainment was provided by Soberton Strummers which was enjoyed by all - there are usually 10 to 12 of them but 20 turned up when they heard there was cake!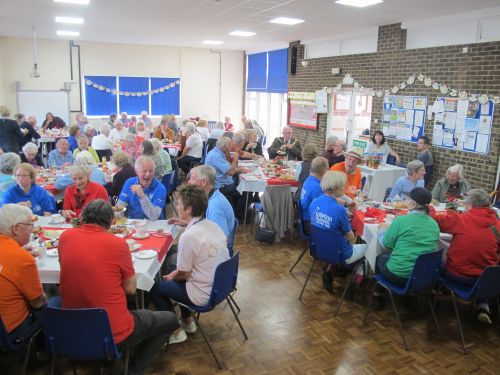 Thanks to donations from local businesses to the raffle, all the jam and cream being donated, and many donations of cake the event was free of charge to those attending.
---
Re the New heating
The thermostat is set to a comfortable heat, should you require it warmer for any reason please switch on the heater in the extension BUT remember to switch it off before you leave.
---
Car Park If you are going on a Coach Trip or similar and would like to leave cars at the hall please SPEAK TO CHRISTINE CUNNINGHAM the bookings Sec. please don't just look at the diary three weeks before and say 'oh yes it will be ok there are no bookings on that day', because a booking might pop up a few days before your event.
If you booked the hall and expected an empty car park, you would be annoyed if there were quite a few cars in it and your members could not get in!
---
Classic Cars
Every second Sunday in the month the car park will be in use for a gathering of Classic Cars. 0. Follow this link to our web page, click