N E E D L E S - 2020
WE ARE CLOSED UNTIL FURTHER NOTICE DUE TO CORONAVIRUS
WE MEET ON THE LAST SATURDAY OF EVERY MONTH - 1.30 - 4.00 PM
WALTHAM CHASE VILLAGE HALL ** LOTS OF PARKING AVAILABLE
ON-TAP TEA AND COFFEE PLUS HOME MADE CAKES AVAILABLE THROUGHOUT THE AFTERNOON!
£4.00 per session
*******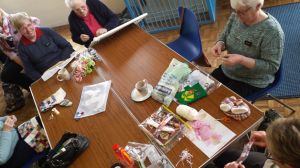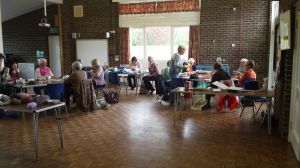 Our group is for ladies who enjoy crochet, embroidery, patchwork, knitting, tapestry, beading, etc. and look forward to spending a Saturday afternoon together once a month. We are a friendly group who enjoy chatting about our work, sharing our skills and ideas and perhaps learning something new.
If you would like to join us, we can arrange to meet and bring you to your first session and introduce you to some of our members. We know going to new groups on your own can be a bit daunting sometimes. Just phone Bridget or Judith on the above numbers to organise a visit. Bring along your hand work and remember you don't have to be an expert at your chosen craft. Some ladies just enjoy coming for the company rather than the doing!
We look forward to seeing you.